Václav Blahunek – Chief Conductor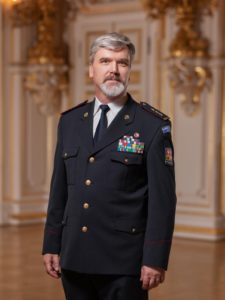 Václav Blahunek graduated from the Music Faculty of the Prague Academy where he first studied clarinet (under Petr Čáp) and then conducting (under Radomil Eliška, Josef Kuchinka, František Vajnar, Jiří Chvála, Pavel Pokorný, Leoš Svárovský and Lubomír Mátl). He participated in courses of conducting by Jiří Bělohlávek and Nicolas Parquet at the Prague Academy and Craig Kirchoff at the American university in Appleeton. Václav Blahunek works with many orchestras and ensembles in Czechia as well as abroad, including the Pilsen Philharmonic, the Prague Symphony Orchestra FOK, the Padrubice Chamber Philharmonic, Bohuslav Martinů Philharmonic Zlín, Hradec Králové Philharmonic, Nothern IllinoisUniversity Symphony Orchestra in Chicago and wind ensembles in De Kalb and Dubuque in USA.He has apperared as guest conductor at the Prague State Opera and the Ústí nad Labem Theatre.
In 2010 he has finished his doctorate studies at the Prague Academy in the subject of interpretation and the theory of interpretation, with special emphasis on conducting the symphonic repertoire for wind orchestras. Václav Blahunek has been conductor of the Prague Castle guard and Czech Police Symphonic Band since 1999, being appointed its director and Chief conductor in 2009. In his repertoire of symphonic wind band music he takes special care to perform original compositions of Czech as well as foreign composers. For instance at the 2005 Prague Spring Festival he conducted the first Czech performance of Karel Husa's symphony Music for Prague 1968. He performed a series of concerts called Karel Husa and his Pupils; Czech composer in the USA after 1948 (Karel Boleslav Jirák, Václav Nelhybel, Karel Husa). Václav Blahunek is a deputy chairman of the Association of the Czech Wind Band Music and the WASBE Board of Directors member since 2015. Among his endeavours is promote Czech music worlwide, he brought the WASBE Conference to Prague this past summer, July 8-11th, 2016 in honor of Václav Nelhybel, Julius Fučík and he is preparing the International WASBE Conference in Prague in honor of Karel Husa for 2021.